Norway is easily reachable from Finland. I'm a bit ashamed that I have travelled around the world but never ever visited Norway. But now it was a good time. Corona pandemic made summer plans to avoid flying so what about road trip thru Finland to Lapland where to cross border to Norway? Sounds amazing, right?
My plan was to go all the way to Lofotes, but I had only one week for this trip. I decided to sleep in the nature in a tent or in a hammock, because accommodation is really expensive in Norway and sleeping outside is part of the adventure. Before the trip I read that in Northern Norway hammocking is not easy because of the terrain. Good that I got a tent for rent from a friend.
I began my trip driving to Konnevesi and stayed there in my friend Matti's house over the weekend. Close by in Suonenjoki was a mountain biking event, where new trails were opened. We decided to go for some fun riding. Man that riding was exhausting for me. Mountain biking and allergy is not good combination. I was short on breath from the beginning until I got so bad cramps that I had to stop riding. Anyway trails were fun and I most likely go there again.
After saying goodbye to Matti, I drove to Kainuu. I stayed a night in a hammock close by a lake and continued my trip very next morning. I drove to Lapland and decided to stay night in lean-to before crossing the border to Norway next day.
First night in Norway I stayed in Harstad. I found from trailforks.com some good enduro racing gps tracks. Weather was rainy and cloudy so next day after the ride I decided to drive as close to Lofotes and Å as I could. I end up camping over night in nice river spot half way of the drive.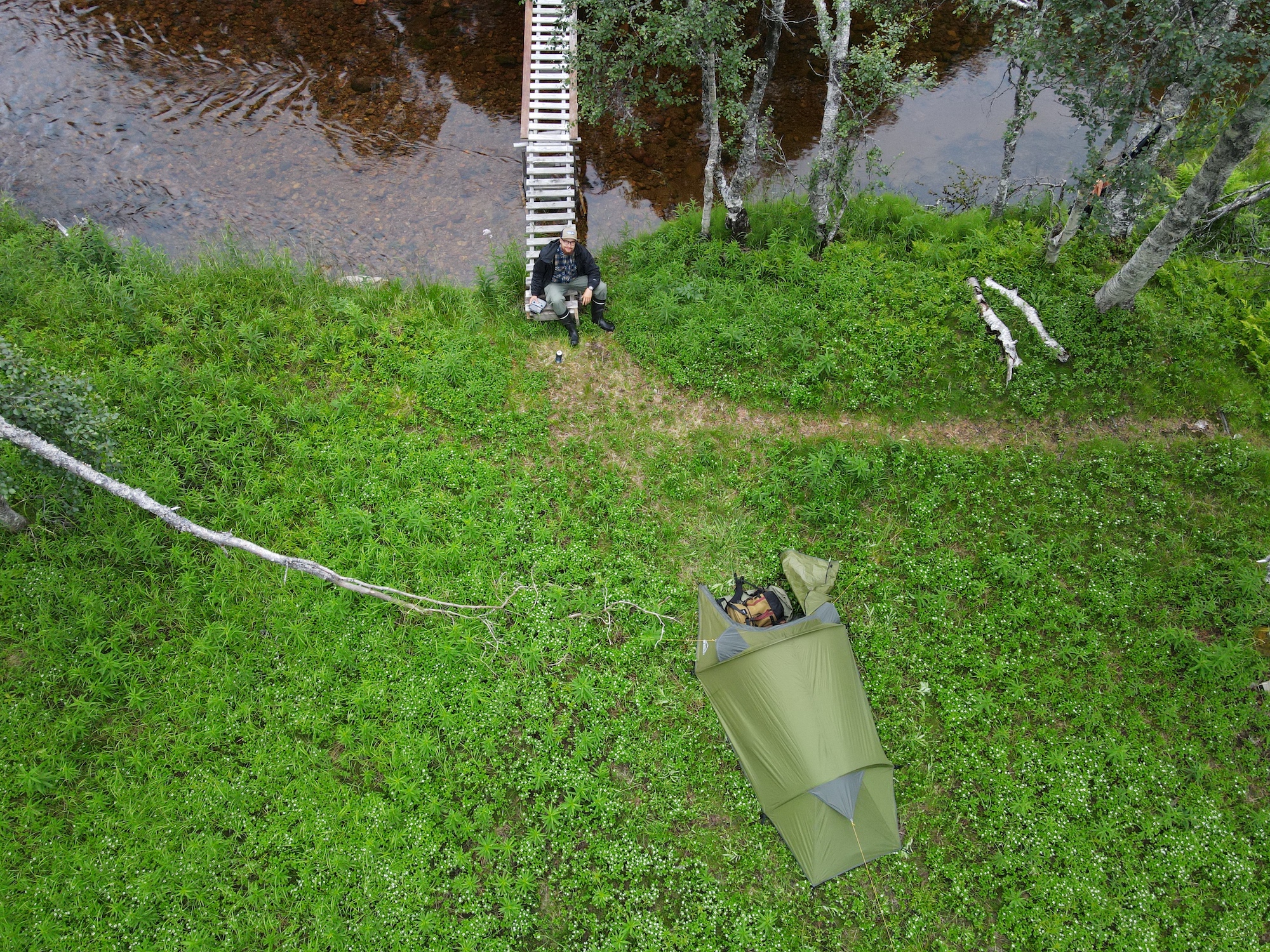 Very next day was even more rain. So it was driving time. I was enjoying scenery, winding roads, mountains side by road and ice sea. Finished my day at very end of the city of Å, where I also stayed over night. I assembled my tent on top of the small hill with gorgeous scenery. Late at night there came more campers and one guy asked if they can buy gas for cooking from me. Turn out that they tried to carry gas in their backpacks in airplane and they got checked. I couldn't sell my gas, but I offered to borrow and return it after the use. Next morning they returned gas side by few cans of beer and big chocolate bar as thank you.
Then I started driving back to North and towards Finland. I stayed one night close to Justadtinden, because day was first time sunny and clear. In Justadtinden I also climbed up to mountain and drove my bike down. What a beautiful view clear weather gives from top of the mountain!
Next day I wanted to drive as close to Finnish border I could and end up staying in Lyngen. I found a lot of good mountain biking trails there and rode on top of the Bollmannsveien. Bollmannsveien is old military road, which by difficulty is a black diamond trail. Check the video to get more views from the trail.
I crossed the border back to Finland and drove to Levi. In Levi I stayed in cabin with sauna and good facilities. After one week "camping" this was a luxury. I stayed in Levi for two nights so I had also time for full day in bike park.
This road trip was amazing and it's wonderful to see that there are so many beautiful mountains close to Finland. I covered a lot of kilometers by car and this was kind of a scouting trip for future mountain biking trips to come. I'm sure that there is many more Norway trips to come in near future!